I saw this and thought I would post, because I wanted to get some feedback as to what you guys think of it. I'm looking at getting a Nitro powdered buggy, just not sure on this. Would be the my first Nitro powered one.
This one say great for beginners, so that and the fact it's cool. Got my attention. So post your comments and let me know what you think.
Here's the page it's on, look and let me know? http://radiocontrolledcraft.com/hot-nitro-buggy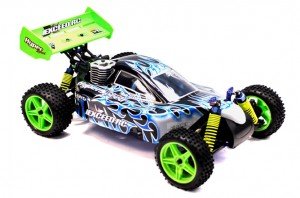 The Car Contains all available hop-up parts; body or engine included!!!Designed to compete in national and local competitions, manufactured at a super-modern facility, Exceed RC's nitro r/c gas cars are created with a mind for high performance racing, scale speed of 55mph+. This 4-Wheel-Driven Gas Powered Car is a 1/10th scale that combines many sophisticated performance-enhancing features that represent a culmination of the long years of Exceed RC's design experience.